The Mariposa County Democratic Central Committee
Update on Races Important to Mariposa County Democrats
Over the last few months various Candidates have visited our Central Committee and Club Meetings, giving us a chance to learn about their positions on the issues that are important to our County. One of the races that is of critical importance is CD 04, the U.S. Congressional seat currently held by ultra conservative Republican Tom McClintock. A "bio" of McClintock has been compiled by Sierra Forward and is available here. Mariposa County is represented at the State level by Senate District 8, where Republican Tom Berryhill is termed out, and Assembly District 5, which is currently held by Frank Bigelow.
CD04 has been a particularly hotly contested race where three Democratic women, shown above, are vying to replace Tom McClintock, in what was once considered a safe Republican seat and in the past, McClintock has outraised his opponents by large margins. Not so this year, with two of the Democratic challengers outraising him and one, Jessica Morse, with more cash on hand than McClintock at the end of December.
The following fundraising information were recently reported in the LA Times based on publically available information reported by the candidates:
Rep. Tom McClintock, the Northern California Republican whose district was recently added to Democrats' list of vulnerable California seats, was outraised by two Democratic challengers last quarter. McClintock, of Elk Grove, raised $215,854 between Oct. 1 and Dec. 31, less than the $260,724 Regina Bateson reported raising and significantly lower than Jessica Morse's $291,761 haul. The incumbent was already raising money at a faster clip than previous cycles, bringing in $651,168 in 2017 as opposed to the $523,986 he had raised in 2015. Morse now has more cash in the bank than McClintock, with $488,842 reported as of the end of the year compared with his $461,943. Morse, who previously worked on national security issues for the federal government, also raised more than McClintock in the previous quarter and had already been gaining on him in cash on hand. Bateson, a political science professor and former foreign service officer, is further behind with $276,060 in the bank. The numbers could hint at trouble ahead for the five-term Republican, who is facing his first competitive race since first being elected in 2008. His district was named a Democratic priority in November.
Candidate - Tom McClintock (R) Incumbent
Raised -------- $637,734
Spent --------- $451,367
Cash on Hand - $461,943
Last Report - 12/31/2017

Candidate - Jessica Morse (D)
Raised -------- $555,542
Spent --------- $66,700
Cash on Hand - $488,842
Last Report - 12/31/2017

Candidate - Regina Bateson (D)
Raised -------- $455,024
Spent --------- $178,964
Cash on Hand - $276,060
Last Report - 12/31/2017

Candidate - Roza Calderon (D)
Raised -------- $77,465
Spent --------- $24,829
Cash on Hand - $52,636
Last Report - 09/30/2017
Region 4 Pre Endorsement Conference in Modesto
On January 28th, Region 4 of the California State Democratic Party met in Modesto to hold a pre endorsement conference. Any candidate for office that received more than 70% of the eligible votes at this conference would automatically be endorsed by the California State Democratic Party for that office.
Those eligible to vote from Mariposa County included members of Democratic Central Committee and three members of the Mariposa Democratic Club which had voted to endorse Jessica Morse for the CD 04 race at their January meeting.
Those from Mariposa also were able to vote on the SD 08 and AD 05 races. Tom Pratt (SD 08) and Carla Jean Neal (AD 05) received more than 70% of the vote and thus won the endorsement of the State Party.
In the CD 04 race however, no candidate received more than 70% of the vote, so the endorsement for this race, if any, will be decided at the State Party Convention on February 23-25th.
The votes at the pre endorsement conference for the CD 04 race were:
Jessica Morse: 95 votes 55%
Regina Bateson 70 votes 41%
Roza Calderon 3 votes
Regina Bateson to Discuss Her Congressional Candidacy

Voters in our 4th Congressional district will have a chance to meet another candidate on Sunday, June 25. Regina (Gina) Bateson will speak that evening from 6 to 8 pm at the Best Western Conference Room, at the intersection of Hwy 140 and 49S. Coffee and water will be served. This is a free event and the public is invited to attend.

Bateson says she is running for Congress because, "Our region desperately needs real representation in Washington, DC. As a native of the 4th District, I understand our shared values. I will fight to strengthen our local economy, to protect our great outdoors, and to ensure access to affordable healthcare."

After earning her BA in History at Stanford and MA and PhD in Political Science at Yale she worked as a foreign service officer for the US State Dept and was posted in Central America. As a native of Northern California she became concerned about the congressional representation and decided to return to her hometown and do something about it.

Bateson considers herself a pragmatic problem-solver who is committed to improving life in our region, from the suburbs to the Sierras. "I invite all our district's Democrats, moderate Republicans, and unaffiliated voters to join me in this campaign. We may not always agree on everything, but I will listen carefully to your views, and I will treat all the residents of our district with dignity and respect. You deserve no less." says Bateson.

The conference room is located at the north end, next to the swimming pool. For overflow parking, please part next door at the real estate office and walk to the room.
This event is being sponsored by the Mariposa Democratic Club and the Mariposa County Democratic Central Committee.
Jessica Morse to Visit Mariposa County on June 10th
Jessica Morse, one of the Democratic canidates for California CD 4, currently held by Tom McClintock, to speak to Mariposa Democratic Club and Democratic Central Committee on June 10th. Read her amazing biography on the club website here. The Central Committee meets right after the Mariposa Democratic Club meeting.
Rural Californians fear concerns unheard by big-city politicians 

Democrats Just Flipped Seats In 2 Trump Districts
Statement Of California Democratic Party Chair Eric C. Bauman On Trump Budget
SACRAMENTO -- California Democratic Party Chair Eric C. Bauman released the following statement on President Trump's budget proposal submitted to Congress today:

"The President's proposal takes a wrecking ball to California, particularly its most vulnerable citizens, seniors, immigrants, and the middle class. Gutting Meals on Wheels, Medicaid, childhood nutrition programs, college loan programs, and disability benefits, while putting billions into the construction of a border wall makes no sense from either a human or a budgetary perspective. The Trump budget blasts holes in California's safety net and state budget, and I am confident Democrats in our Congressional delegation will fight to block this budget and work to pass one which reflects the values of the American people."
Statement of California Democratic Party Chairman John Burton on "Trumpcare" Vote: As Congress considers repealing the Affordable Care Act, a law that has provided health insurance to more than 4 million Californians, our state's representatives should know that they are on notice. They can either stand with the people who sent them to Washington D.C. and protect health care for the sick and vulnerable and those who need it most, or we will hold them accountable on Election Day.
All eyes are on our elected officials to do the right thing. Implementing the ill-conceived "Trumpcare" to line the pockets of the wealthy and leave the rest of us holding the bag is the wrong thing. Washington, D.C. may be 3,000 miles away, but none of this is happening in a vacuum. We are watching. And we are taking names.
The Mariposa County Democratic Central Committee
The Mariposa County Democratic Central Committee (MCDCC) represents the Democratic Party in Mariposa County. The MCDCC operates under its own by-laws, the California State Elections Code and the by-laws of the California State Democratic Party.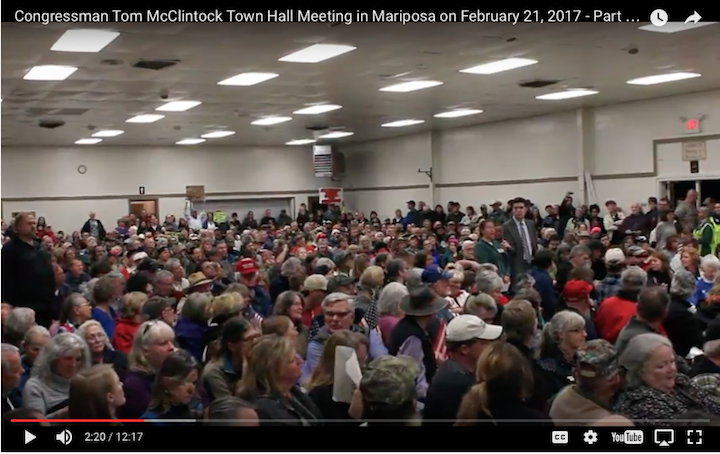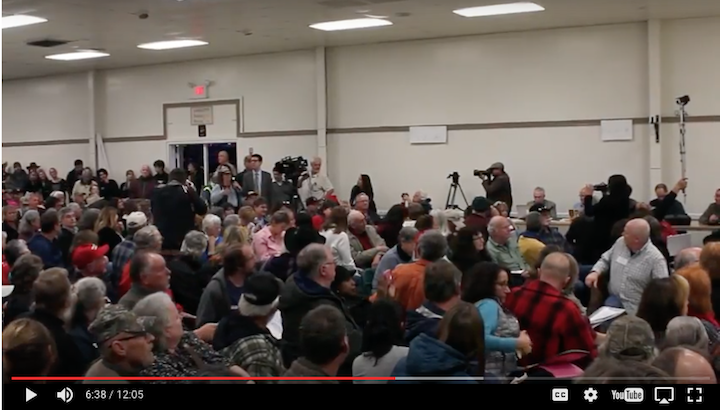 In the pictures above (from video taken by the Sierra Sun Times) MCDCC Chair, Christina Oborn, Lisa Edelheit and Mary Wood, District 1 members, questioned CA CD 04 Representative Tom McClintock at the February town hall meeting in Mariposa. Christina asked what Republicans during the last eight years did beside obstruct constructive legislation, contributing to the divisiveness of the electorate. Lisa was concerned about the future of public schools and Mary's question about what plans the Representative had for assuring she would have affordable healthcare after the Republicans repealed the Affordable Care Act, made the national news.
The MCDCC held its reorganizational meeting in January, 2017, with election of officers and appointment of delegates. Many members participated in the Women's March in Sacramento, Oakland, San Francisco and San Jose on January 21. Heartened by the huge response to the March and the meteoric rise of the Indivisible movement nationwide, many MCDCC and Democratic Club members attended meetings of quickly forming local progressive action groups and found much in common. Three groups (Mariposa Action, Progressive Mariposa and Next Step) were invited to speak to the Democratic Club and to meet with the MCDCC to discuss collaboration. During the February meeting, MCDCC members unanimously voted to collaborate on resources and activities in the service of shared goals.
The current focus of the Central Committee is on voter outreach and plans for supporting Democrats running for public office.
The MCDCC would encourage anyone that is registered as a Democrat in Mariposa County to consider becoming a member of the Committee or we would love to talk with you about other ways you can help grow the Democratic Party in Mariposa County. We have room for more members who live in County Supervisor Districts 2, 4 and 5, or you can serve as and alternate member if you live in Districts 1 and 3. if you want to help us elect Democrats and spread awareness of Democratic issues, let us know! If you are interested, contact our Chair, Christina Oborn, at mcdemcc@gmail.com.
The Mariposa County Democratic Central Committee charters the Mariposa Democratic Club and is responsible for chartering other clubs in the county that wish to be associated with the Democratic Party or use the name, "Democrat" or "Democratic".
Mariposa Democratic Central Committee Officers
Chair: Christina Oborn
Vice Chair: Rosemarie Smallcombe
Secretary: Mary Wood
Treasurer: Steve Smallcombe
Executive Board Representative: Rosemarie Smallcombe
Members
The MCDCC has slots or positions for 23 members distributed amongst the county's 5 Supervisorial Districts. The number of slots per district is allocated by the State Party in proportion to the number of Democrats that voted for Governor in each Supervisorial District, and thus can change after each Gubernatorial election.
Current membership in the MCDCC is as follows:
District 1:
Lisa Edelheit
Carmel Lozano
Rosemarie Smallcombe
Steve Smallcombe
Mary Wood
District 2:
Three Open Positions

District 3:
Cameron Burley
Kathy Lander
Suzette Prue
Michelle Stone

District 4:
Aaron Marcus
Three Open Positions

District 5:
Christina Oborn
Vicki Roland
Lowell Young
Two Open Positions
Ex-Officio Members:
Robert Carabas
Paulina Miranda
Robert Derlet
The MCDCC has elected 5 members to represent us at the California Democratic Party State Convention:
Carmel Lozano
Aaron Marcus
Christina Oborn
Rosemarie Smallcombe
Steve Smallcombe
This and related MCDCC page is under construction and not all links may work properly.